On paper, the Galaxy Note 7 has it all.
We would have liked to offer you this test earlier, but Samsung was taken aback by the success of this phone. Basically, he had bet on the sales of the Note 5 in Canada in order to predict the quantities to be shipped. But the demand was four times higher, and so was it in many countries.
It must be said that this phone is not lacking in assets. Its curved screen as standard, the new possibilities offered by the stylus or even unlocking by the iris; on paper it has it all.
Design and handling
Just like an iPhone, its skin exudes high-end (even if in reality these phones are expected to last 3 years). Its curved screen is beautiful. It stretches on both sides of the phone, making the edges almost disappear. Result, it is smaller than an iPhone 6s Plus, while offering a screen of the same size.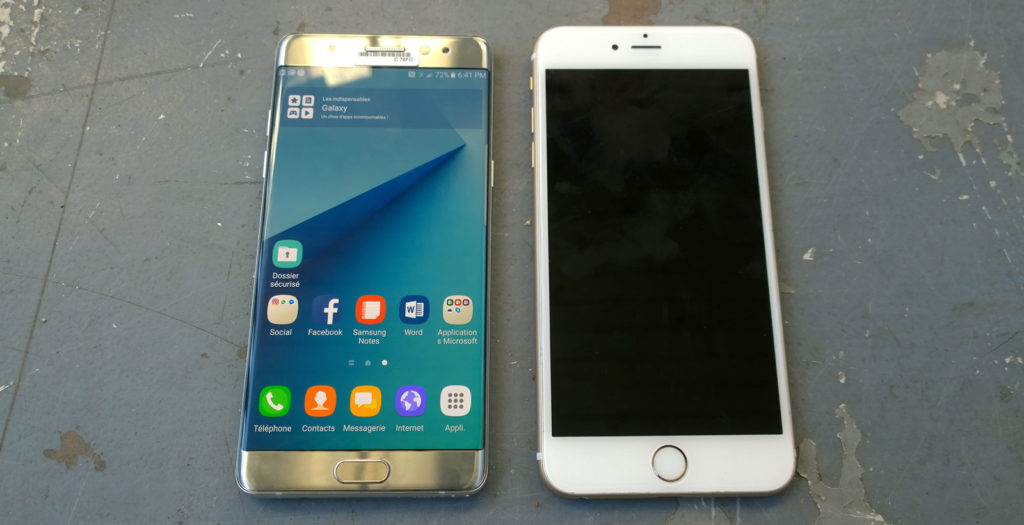 The stylus is always stored under the device, and goes very well with the aluminum strapping. The back side is metal. Samsung seems to have finally understood that the indigestible plastics and flat designs at the top of the range are detrimental to the image, even if the technology is there.
It will take effect when you take it out. It is elegant, very well put together, and its screen immediately catches the eye. The videos offer a unique rendering with this curved screen, and it does not interfere with their viewing.
The grip is excellent. It will take some getting used to when hitting the curved sides. But otherwise, the touch screen responds very well. Finally, its thickness is just enough to hold it well in hand during calls.
Material
Its 5.7-inch Super AMOLED screen offers a brilliant or rather brilliant rendering, typical of this technology. On the color side, Samsung seems to have finished favoring warm colors. The screen displays real colors, even if we can blame it for a slightly cold tint which is seen especially in the menus, but there we quibble. On the other hand, we appreciate its visibility under the sun, but on condition of pushing the brightness to 80%.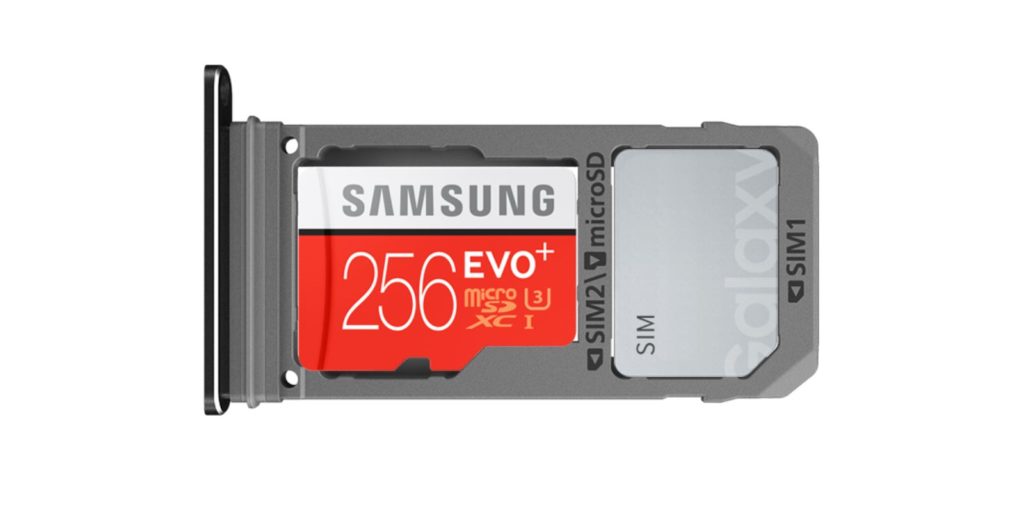 In addition to its 64 GB of basic storage, there is a microSD reader. Placed next to the SIM card, the drawer that holds them is common to both cards, just like on the Galaxy S7.
Among the great new features, the iris scanner is making its appearance. The functionality works very well, but with sufficient ambient light. In unfavorable light conditions, it will be better to use the fingerprint reader or the classic scheme to unlock the phone.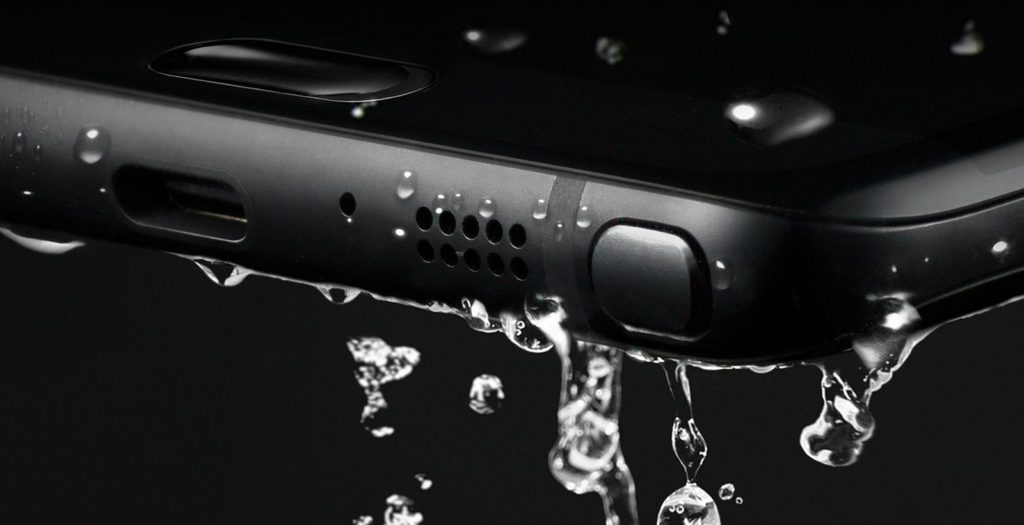 Its sealing is also of a good level. Be careful, it is not waterproof, but according to Samsung, it can stay 28 minutes at 70 cm depth without suffering any damage. We dunked it in water without a stylus and the phone held up just fine.
The new stylus (S Pen) recognizes up to 4,096 pressure levels. It is even more precise than the old version which already offered very good performance.
Even better cameras
If Samsung equipped its previous phones with 16 megapixel sensors, it's a new 12 megapixel sensor that comes with the Galaxy Note 7. The number of pixels is not everything, and this phone proves it with a rendering much better than with the 16 megapixel sensor. Generating clear, bright photos, offering an excellent level of detail for a phone, it does better than its predecessors and easily ranks among the best current photo sensors.
The night capture is also of an excellent level, it is only the backlighting that is right for its level of detail. Indoors in the evening, the photos without the flash are very correct, but you can easily see a lot of noise in the image. Once the flash is activated, this concern is a thing of the past.
Its 5 megapixel front camera is also very well made. It will allow you to take fabulous selfies to show everyone that you have a great life like in a movie.
Integrated software
First of all, I greatly appreciated the presence of Office from Microsoft and not a clone. It allows you to open and work on all documents in Microsoft's bastard formats (.docx, yes I'm talking about you) without having to retrieve it once on your computer or face incompatibility.
The software supporting the S Pen is always more serious and even more efficient. Selecting only a portion of text, highlighting what you want to translate, drawing, cutting out elements that you see on the screen to save it, this software is very often instinctive to use.
For the rest, we find Samsung's security software, Android packaging with everything Google offers, and of course the essential accessories except for a remote control. Seems to quibble, but would be nice to include one. As we'll see in an upcoming review, the remotes for Samsung's new TVs are proving to be so feature-poor that a phone is needed to replace them.
Technical characteristics
Screen

5.7-inch QHD Super AMOLED




1440×2560 pixels

system on chip

Snapdragon 820

RAM

4GB

Storage space

64 GB (up to 256 GB with microSD)

Main camera

12 megapixels in photo mode (ƒ/1.7)




1080p, QHD and UHD (4K) in video mode




Autofocus, auto HDR, panorama mode, optical image stabilization and LED flash

Front camera

5 megapixels in photo mode




1080p in video mode

Battery

3,500mAh (with

Adaptive Fast Charging

)

Connectivity

Wi-Fi 802.11 a/b/g/n/ac (2.4 and 5 GHz), MIMO (2 × 2) 620 Mbit/s, NFC, Magnetic Secure Transmission (for Samsung Pay), Bluetooth 4.2 LE, ANT+

Sensors

Barometer, Fingerprint Reader, Gyroscope, Geomagnetic Sensor, Hall Effect Sensor, Heart Rate Sensor, Iris Sensor, Light Sensor

Operating system

Android 6.0.1 Marshmallow

Dimensions

153.5×73.9×7.9mm

Weight

169 grams
Performance
No more Exynos instead of Snapdragon in Canada. We are now housed in the same boat as our neighbors to the south and are therefore entitled to the same processor. The US still uses CDMA supported by the Snapdragon, but not by the Exynos. Making two versions of the device for the North American market, even if the rest of the world is entitled to the Exynos, added logistics to Samsung. By choosing the Snapdragon for North America, Samsung realizes some savings.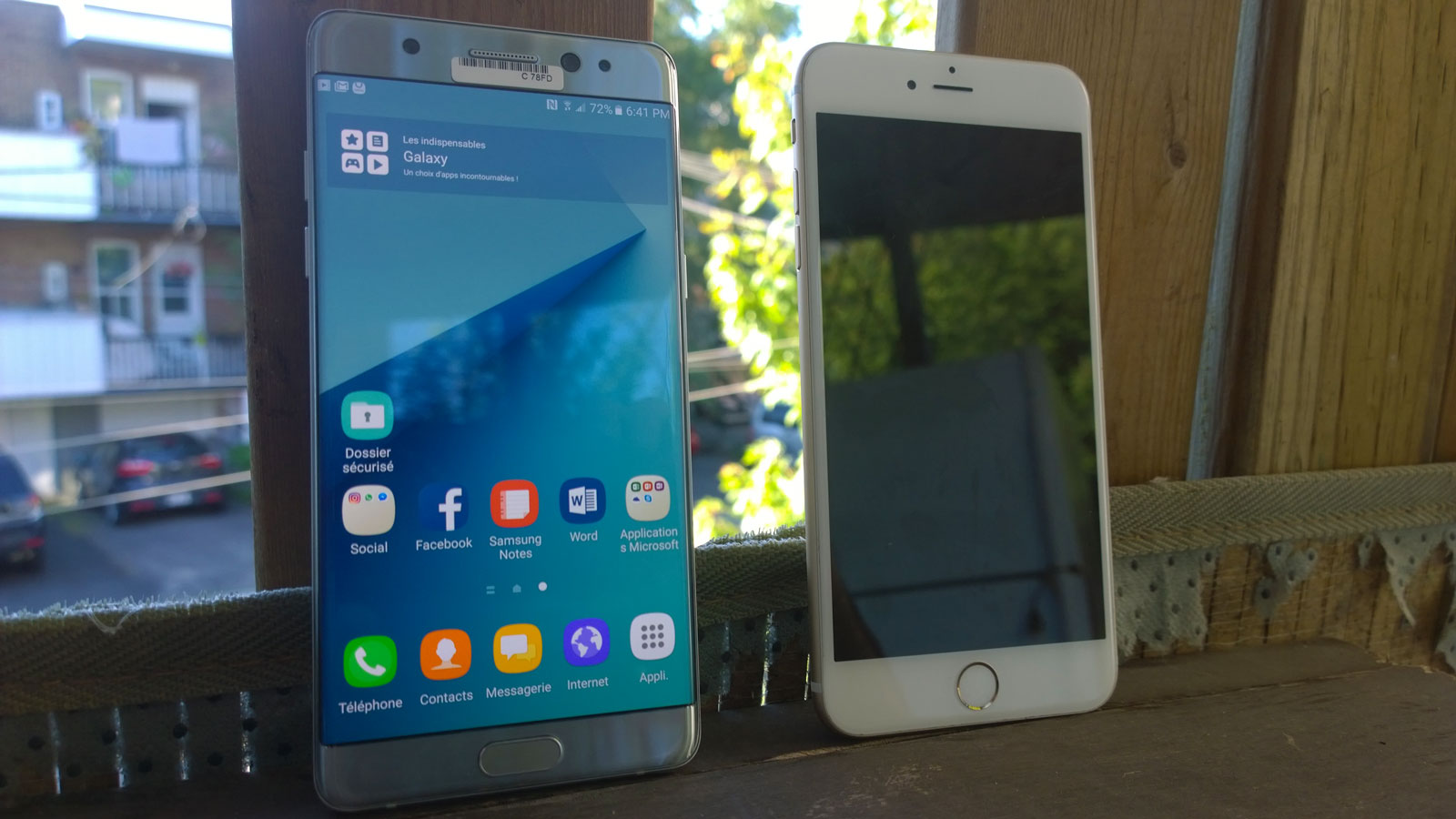 Dans les faits, le GPU du Snapdragon 820 est un peu plus puissant que l'Exynos 8890 qui dispose lui d'un CPU un peu plus puissant que le Snapdragon. À l'utilisation, notre Galaxy Note 7 d'essai s'est révélé performant dans toutes les situations. C'est devenu une habitude avec ces téléphones hauts de gamme, et le contraire attirerait de toute façon les foudres de la vindicte populaire.
Résultat, il ne ralentit pas lorsque plusieurs applications sont ouvertes, et donne le maximum dans les jeux. On note bien sûr une chauffe importante dans les jeux à l'arrière du téléphone, mais rien d'anormal cependant. D'ailleurs, après l'avoir laissé lire des vidéos en streaming pendant des heures, il était étonnamment froid. Il n'y a que deux situations où il chauffe vraiment, lors des mises à jour et dans les jeux.
Autonomie
Là encore, les performances correspondent aux attentes. Avec une utilisation sans se restreindre en journée, entendez Wi-Fi, Bluetooth, localisation activée, lecture audio et vidéo… il tient allègrement jusqu'à très tard dans la nuit. Il a toutefois une autonomie un peu en retrait face au Galaxy S7 Edge qui ne montrait des signes de fatigue qu'une fois la nuit passée. En tout cas, avec une utilisation moindre, il tiendra une journée et demie, voire une journée supplémentaire. Dans le cadre de quelques appels seulement, et en éteignant Facebook, il peut même tenir quatre jours sans se forcer.
NDLR : Le Galaxy Note 7 de ce banc d'essai a été envoyé par Samsung avant que l'entreprise ne décide d'effectuer le rappel extraordinaire de l'ensemble des appareils. Il serait toutefois très étonnant que le comportement du téléphone change avec sa pile de remplacement (à l'exception bien sûr des incendies qu'il a pu provoquer chez certains utilisateurs).
Conclusion
Le Galaxy Note 7 est un excellent téléphone et même l'un des meilleurs, si ce n'est le meilleur actuellement sur le marché. Si vous voulez une grande taille, mais de plus en plus contenue, et que son stylet vous parle, il vaut le choix.
On the other hand, its recall (which should cost Samsung a billion) will make it very difficult to obtain it in the coming weeks. Our model, however, behaved very well during these few days, so much so that we regret the disastrous fate that will be reserved for it by Samsung once returned. The recall is also due to the fact that the phones that exploded contain a battery manufactured by Samsung SDI which equips 70% of the models .