MISE À JOUR : Le catalogue de contenus offerts en téléchargement est beaucoup plus important que ce que laissait croire le communiqué de Netflix. Voir au bas de l'article pour un aperçu.
---
Suivant les pas de ses concurrents, Netflix a annoncé aujourd'hui l'arrivée d'une nouvelle fonction à son application mobile : le téléchargement de contenu. Vous souhaitez poursuivre le visionnement d'une série dans un endroit sans Wi-Fi et ne souhaitez pas défoncer votre forfait cellulaire? Vous pourrez maintenant télécharger à l'avance les contenus qui vous intéressent.
Netflix a précisé que le déploiement de la nouvelle fonction était destiné à l'ensemble des utilisateurs à l'échelle internationale, et qu'elle sera accessible sans frais supplémentaires.

Il est toutefois important de souligner que le téléchargement n'est pas disponible pour l'intégralité du catalogue de contenus. En effet, droits de distribution obligent, certains films (dont notamment Star Wars : The Force Awakens) et séries ne peuvent être vus que lorsque l'appareil est connecté à Internet.
Dans son communiqué, Netflix mentionne les séries Stranger Things, Orange is the New Black, Narcos et The Crown – toutes des productions originales. Mais on retrouve aussi des séries originalement conçues pour la télévision, dont Breaking Bad, The IT Crowd, Freaks and Geeks, Dexter pour ne nommer que ceux-là. Le cinéma est également très bien représenté avec Pulp Fiction, The Breakfast Club, Nothing Hill, Trainspotting, et la trilogie The Hunger Games.
«Entre les films et séries déjà disponibles en téléchargement et les programmes téléchargeables très prochainement, vous disposez d'un large éventail de contenus à regarder hors connexion», précise Netflix.
Tout porte à croire que Netflix négociera une clause permettant le téléchargement lors du renouvellement des licences d'exploitation des contenus avec leurs ayants droit. Par conséquent, on peut s'attendre à ce que la fonction devienne graduellement accessible à la majorité (voire l'intégralité) du catalogue de Netflix à moyen terme.
Bien entendu, les contenus ainsi téléchargés ne pourront être lus que par l'application Netflix, et cette fonction est exclusive aux appareils mobiles.
Malgré que l'entreprise ait longtemps maintenu qu'elle ne souhaitait pas permettre à ses utilisateurs mobiles de télécharger ses contenus, elle s'était montrée ouverte à l'idée en avril dernier.
Le plus grand rival de Netflix aux États-Unis, Amazon, offre une fonction similaire avec son service Prime Video depuis septembre 2015.
Un catalogue impressionnant
Nous avons tenté de bâtir la liste de tous les contenus pouvant être téléchargés depuis le Canada. Malheureusement, puisque Netflix préfère n'afficher qu'une partie de son catalogue (et ce, même en répétant plusieurs fois les mêmes films et téléséries dans diverses catégories), nous n'avons qu'une liste partielle.
À quel point Netflix s'amuse à répéter les mêmes choses? Voici le contenu affiché à un nouvel abonné dans la section Available for Downloads :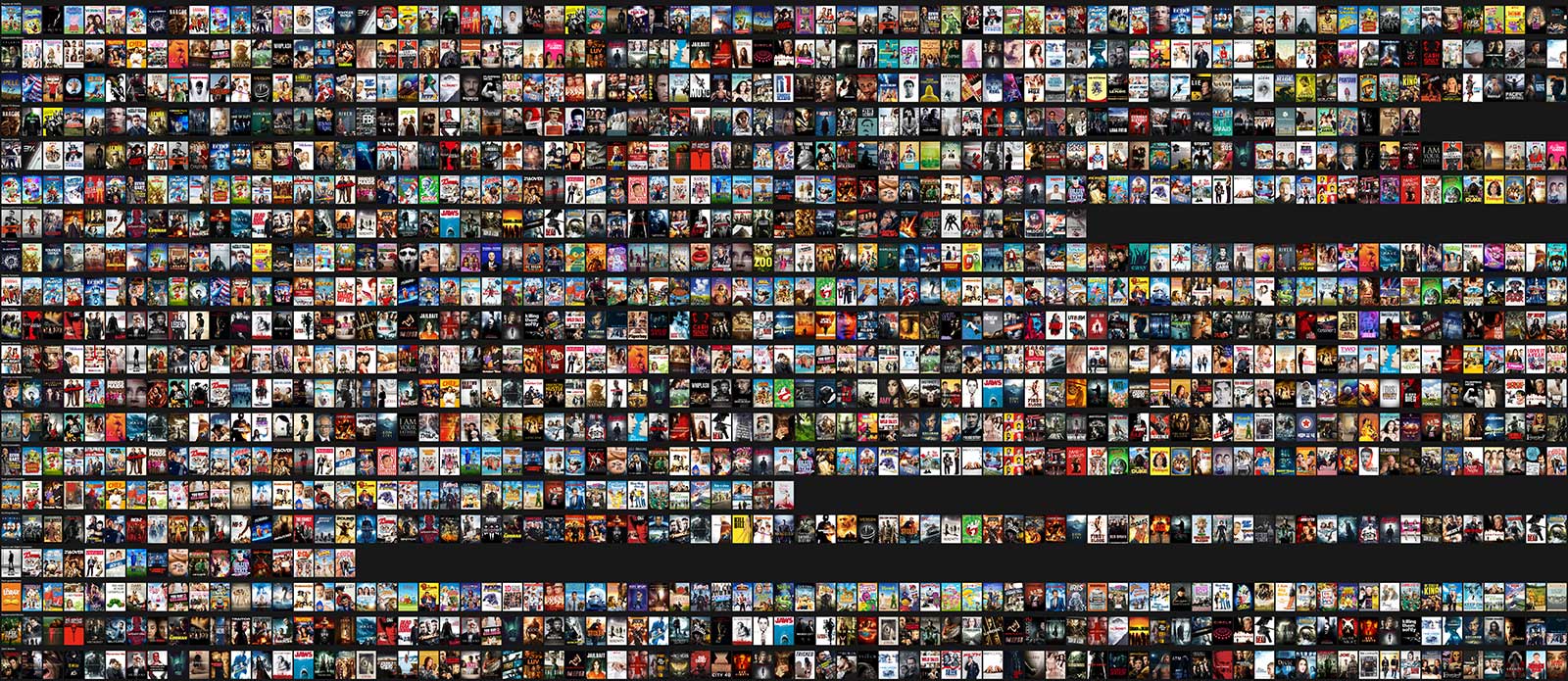 Voici la même image une fois que l'on retire tous les doublons :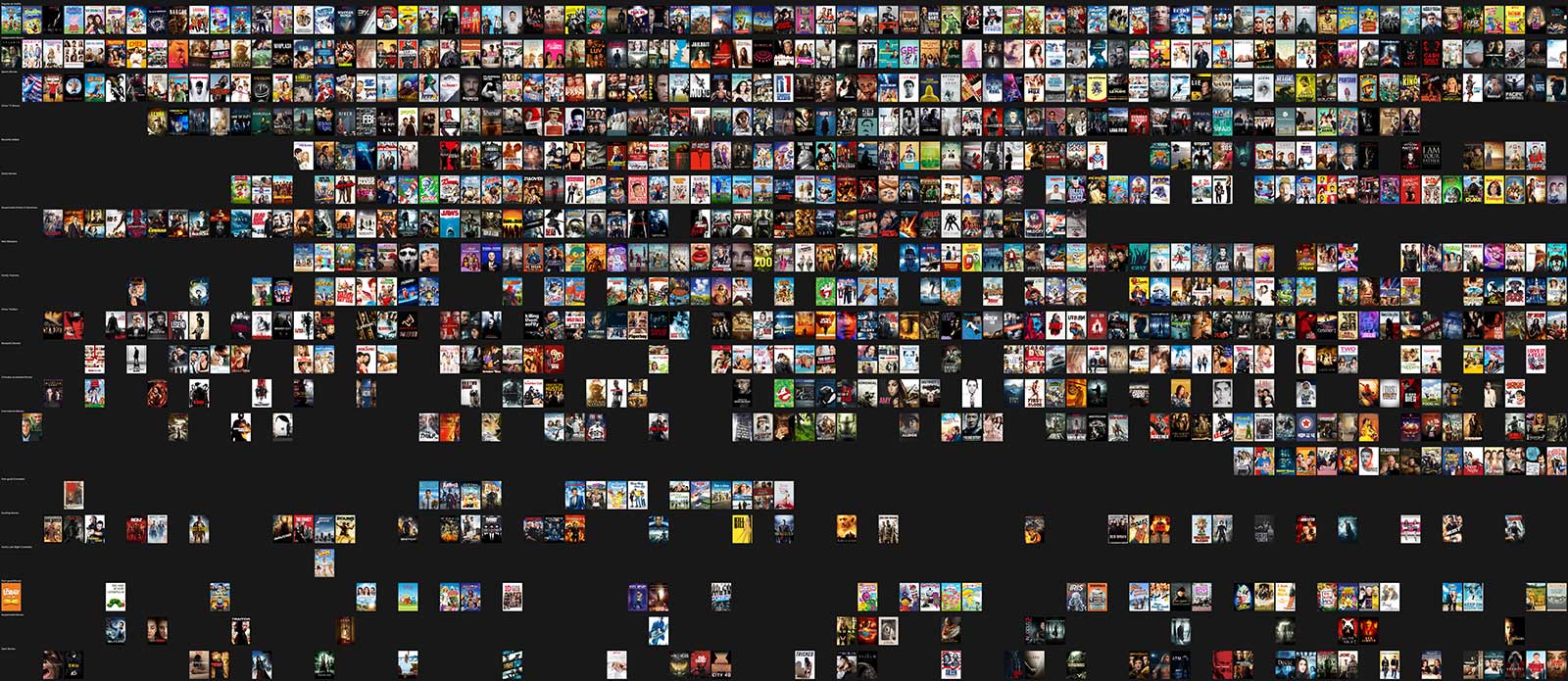 Malgré la présence répétée de biens des titres, d'autres contenus pourtant offerts en téléchargement manquent à l'appel. On nous a proposé à trois reprises The Hunger Games : Mockingjay Part 2, et pourtant, la première partie peut également être visionné hors ligne. La sitcom britannique Black Books (excellente, soit dit en passant) a également été oubliée, alors qu'elle peut être téléchargée sans problème.
Au tableau des grands oubliés, on ne retrouve absolument rien de distribué par Disney, incluant les films de Marvel réalisés depuis l'acquisition. Oubliez également les séries Marvel exclusives à Netflix; elles ne sont pas disponibles en téléchargement.
Voici donc, en ordre alphabétique, les 899 films et séries que nous a proposé Netflix dans la section Available for Downloads :
12 Dogs of Christmas
13 Going on 30
180° South
2 Guns
20 Ft Below
21 & Over
21 Jump Street
22 Jump Street
23 Blast
3%
4 Minute Mile
47 Ronin
6 Bullets
8 Mile
99 Homes
A Gift Horse
A Haunted House 2
A Hijacking
A Little Bit of Heaven
A Million Ways to Die in the West
A Cat in Paris
A Girl Like Her
A Monster in Paris
A Most Violent Year
A Most Wanted Man
A Mysterious Robber
A Perfect Ending
A Royal Affair
A Sunday Horse
A Walk Among the Tombstones
About Time
Adderall Diaries
Advanced Style
Adventures in Lalaloopsy Land : The Search for Pillow
After Earth
Agatha Christie's Poirot
Aileen : The Life and Death of a Serial Killer
Air Bud
Air Bud : Golder Receiver
Air Bud : World Pup
Airlift
Airport '77
Alex Cross
Alpha House
All Hail King Julien
All Is Lost
All Good Things
All Our Desires
All Work, All Play
Allende
Alvin and the Chipmunks Meet the Wolfman
Amanda Knox
Amazing Racer
American Hustle
American Ultra
Amy
Ana Maria in Novela Land
Andaz Apna Apna
Animal House
Animals United
And So It Goes
Angel in the House
Angel of Christmas
Antboy
Antboy 3
Antz
Aquarius
Arbitrage
Are We There Yet?
Arthur Christmas
As Above So Below
Ascension
Ask the Storybots
Astérix : The Mansions of the Gods
Asteroid vs. Earth
At Any Price
ATM
Audrie & Daisy
August : Osage County
Autumn Dreams
Awaken
Backstreet Boys : Show 'Em What You're Made Of
Bad Boys II
Bad Roomies
Balls of Fury
Balto
Band of Robbers
Barbie : Life in the Dreamhouse
Barney : Let's Go to the Doctor
Basic Instinct
Beat Bugs
Beast of No Nation
Beethoven's 2nd
Before We Go
Best Night Ever
Beyond the Edge
Big Daddy
Big Game
Black Mirror
Black Road
Blackfish
Bleed : Reap the Flesh
Blood and Bone
Blood in the Water
Blood Ties
Bloodline
Blue Crush
Blue is the Warmest Color
Blue Jasmine
Blue Moutain State : The Rise of Thadland
Blunt Force : Trauma
Bob's Broken Sleigh
Bodyguard
Bone Tomahawk
Boychoir
Breaking Bad
Brick Mansions
Bridesmaids
Bring It On Again
Broken City
Brooklyn Nine-Nine
Brown Nation
Bullet to the Head
Cabin Fever
Caillou
Can You Canoe?
Captain Phillips
Care Bears : Journey to Joke-a-Lot
Care Bears : Ups and Downs
Carlos Ballarta : El Amor es de Putos
Cartel Land
Case Closed : One Truth Prevails
Cash Only
Casper's Haunted Christmas
Casting Couch : Make Movies, Meet Girls
Caught on Camera
Chalk it Up
Chapo : El Escape del Siolo
Charlie St. Cloud
Checkmate
Chef
Chef's Table
Chelsea
Chinese Zodiac
Christian Mingle : The Movie
Christmas is Here Again
Christmas Miracle : Sage Creek
Christmas on Salvation Street
Christmas Ranch
Christmas with the Kranks
Circle
Cirque du Feak : The Vampire's Assistant
City 40
Cloudy with a Chance of Meatballs
Cloudy with a Chance of Meatballs 2
Cold in July
Colin Quinn : The New York Story
Colonia
Confessions of a Brazilian Call Girl
Consumed
Cop and a Half
Couples Retreat
Coraline
Couples Retreat
Covert Affaires
Criminal
Criminal Activities
Crossing Lines
Crounching Tiger, Hidden Dragon
Crounching Tiger, Hidden Dragon : Sword of Destiny
CT Fletcher : My Magnificent Obsession
Curious George
Cybercrimes with Ben Hammersley
Daddy Day Care
Dana Carvey : Straight White Male, 60
Dancing on the Edge
Danger Mouse
Dariba Diaries
Dark Horse
Dark Places
Dark Web
Darkness on the Edge of Town
Date with Love
David Blaine : Real or Magic
Dawn of the Croods
Dawn of the Dead
Dawn Patrol
Day of the Diesels : The Movie
Dead Man Down
Deep
Deep Dark Canyon
Definitely Maybe
Degrassi : Next Class
Delhi Safari
Deliver Us from Evil
Detective Alive
Detective Byomkesh Bakshy!
Dexter
Dhanak
Dial a Prayer
Dictator : One Crazy Job
Dinotrux
Dirty Grandpa
Dishonesty : The Truth About Lies
District 9
Django Unchained
Don't Worry Baby
Do You Even Know Who I Am?
Doc Martin and the Legend of Cloutie
Don't Stop Believin' : Everyman's Journey
Doom
Dora the Explorer
Dragon Blade
Dragons : Race to the Edge
Durarara!
Durarara!! × 2
Earth to Echo
Earthquake
Eastern Promises
Easy
Easy Living
Easy Money
Eat Pray Love
Einsatzgruppen : The Nazi Death Squads
Embers
Emelie
Empire
End of Watch
Ender's Game
Endless Love
Enemies In-Law
Ernest et Célestine
Escape from Planet Earth
Escobar : Paradise Lost
Estocolmo
Ever After High : Epic Winter
Everybody has a Plan
Evil Dead
Ex Machina
Exeter
Expelled
Extraordinary Tales
Extremis
Eyewitness
Falcon Rising
Family Party
Fast Five
Fastball
Felony
Fifty Shades of Black
Fighting
Filth
Finding Vivian Maier
First Blood
Fittest on Earth
Food Choices
Food, Inc.
Forensic Files Collection
Foxcatcher
Fred 2 : Night of the Living Fred
Free Birds
Freedomland
Friends : The Power of Friendship
Friends with Benefits
From Fat to Finish Line
Froning : The Fittest Man in History
Frontera
Full Out
Fury
Gabriel Iglesias : Hot and Fluffy
Gangs of Wasseypur
Gangsters : Faces of the Underworld
GBF
Gentlemen
Ghost Dad
Ghost Rider
Ghost Team
Ghostbusters
Ghostbusters 2
Ghosts of Girlfriends Past
Glitch
Glitter Force
God's Not Dead 2
Golden Winter
Goldman Sachs : The Bank that Runs the World
Gone
Good Will Hunting
Grace and Frankie
Green Room
Gridlocked
Grown Ups 2
Half-Baked
Halo : The Fall of Reach
Happy Gilmore
Harvest Moon
Hate Story 2
Haters Back Off!
He Never Died
Heavon's Door
Heist
Hell and Back
Hello Kitty Flanagan
Help, I've Shrunk the Family
Here Comes the Boom
High Plains Drifter
High Strung
Higher
Hinterland
Hit & Run
Home
Home : Adventures with Tip & Oh
Home Run
Honeymoon
Hoodwinked
Hoop Dreams
Hoovey
Hope
Hot Girls Wanted
Hotel Transylvania
House M.D.
House of Cards
How the Grinch Stole Christmas
Hum Saath-Saath Hain
iCarly
I Am Ali
I Am Big Bird
I Am Wrath
I Am Your Father
I, Frankenstein
I Give It a Year
Iceman
I'm So Excited!
In-Lawfully Yours
In Your Eyes
Indigenous
Inglourious Basterds
Inside the World's Toughest Prisons
Inside your Eyes
Inspired to Ride
Interview with a Serial Killer
Into the White
Insidious Chapter 2
IP Man
IP Man 2 : Legend of the Grandmaster
IP Man 3
Iris
Ishqiya
Isolated
It Follows
Iverson
Jack and Jill
Jack Taylor
Jane Got a Gun
Jamaica Inn
Jailbait
Jaws
Jedi Junior High : A Musical from a Galaxy Far, Far Away
Jeff Foxworthy & Larry the Cable Guy : We've Been Thinking
Jenny's Wedding
Jeremy Jones : Further
Jim Henson's Word Party
Jim Jefferies : Freedumb
Jimi Hendrix : Voodoo Child
Jimmy Carr : Funny Business
Joe
Joe Rogan : Live
Joe Rogan : Triggered
Josef Fritzl : Story of a Monster
Journey to Le Mans
Journey to the Christmas Star
Journey to the West : Conquering the Demons
Just Go With It
Justin Bieber's Believe
Kathleen Madigan : Bothering Jesus
Katt Williams : The Pimp Chronicles pt. 1
Keep On Keepin' On
Kevin Hart : I'm a Grown Little Man
Khumba
Kid Cannabis
Kidnapping Mr. Heineken
Kill Bill Volume 1
Kill Charlie Countryman
Killing Them Softly
Kill Zone 2
Kilo Two Bravo
King's Faith
Kon-Tiki
Kong : King of the Apes
Korengal
Knowing
Knuckleball
Krampus : the Christmas Devil
Kuch Kuch Hota Hai
Kung Fu Killer
Kung Fu Panda : Holiday
Kung Fury
Kyaa Kool Hain Hum 3
Laggies
Lanina
Last Chance to See
Last Chance U
Lava Field
Law & Order : Special Victims Unit
Left Behind
Legend
Legend of Kung Fu Rabbit
Len & Company
Leslie Jones : Problem Child
Life Happens
Life is Beautiful
Life of a King
Life Partners
Like Water
Line of Duty
Linsanity
Little Loopers
London has Fallen
London Spy
Look Who's Back
Los Tiempos de Pablo Escobar
Love
Love Actually
Love by Chance
Love Happens
Love is All You Need
Love Wedding Marriage
Lovelace
Luv
Madea's Witness Protection
Maggie
Maggie's Plan
Maid in Manhattan
Main Aur Charles
Making a Murderer
Makkhi
Mako Mermaids
Man from Reno
Man of the House
Man Up
Manhole
Maravilla
Marcella
Marco Polo
Masha and the Bear
Master of None
Matilda
Matt Braunger : Big Dumb Animal
Maz Jobrani : Brown & Friendly
Meet the Patels
Meeting Evil
Men In Black 3
Metro Manila
MI-5
Michael Che Matters
Midsomer Murders
Mike Birbiglia : What I Should Have Said Was Nothing
Million Pound Motors
Mirror Mirror
Misconduct
Miss Fisher's Murder Mysteries
Miss India America
Mississippi Grind
Mojave
Mojin : The Lost Legend
Monster High : Ghouls Rule
Monster High : Scaris, City of Frights
Moshi Monsters : The Movie
Most Likely to Die
Mother Goose Club
Motivation 2
Moto 6 : The Movie
Mr. Bean's Holiday
Mr. Brooks
Mr. Nobody
Mr. Right
Ms. Matched
Mud
Mutant Busters
MVP 2
MXP
My Old Lady
Mystery Road
Naomi & Ely's No Kiss List
Narcopolis
Narcos
Nativity 2 : Danger in the Manger!
Nfinity Champions League
Night of the Living Deb
Ninjago : Masters of Spinjitzu
No Espace
No Good Deed
No No : A Dockumentary
No Tears for the Dead
Noel
Non-Stop
Notting Hill
Now You See Me
Nowitzki : The Perfect Shot
NSU German History X
NYC Underground
Nymphomaniac : Volume One
Nymphomaniac : Volume Two
Obsession : Dark Desires
October 1
October Kiss
Octonauts
Oddball
Off Course
Oliver Stones' Untold History of the United States
On My Way
Once Upon a Holiday
One Direction : This Is Us
Orange is the New Black
Pacific Warriors
Palm Trees in the Snow
Pantani : The Accidental Death of a Cyclist
Paranoia
Paranoid
Partners In Crime
Paw Patrol
Pay the Ghost
Pee-Wee's Big Holiday
Pelé
Penn & Teller : Fool Us
Peppa Pig
Pentatonix : On My Way Home
Perfect Stanger
Phantom Halo
Philomenia
Piku
Playing for Keeps
Pokémon : Hoopa and the Clash of Ages
Pokémon : Indigo League
Police Story : Lockdown
Populaire
Power Rangers : Dino Charge
Power Rangers Super Samurai : Stuck on Christmas
Precious Cargo
Premium Rush
Precious Cargo
Pretty Ugly People
Private Number
Problem Child
Problem Child 2
Psych
Psychic Investigators
Puffin Rock
Pulp Fiction
Putin's Hidden Treasure
Pumping Iron
Queen of the Night
Radio
Rage
Rattle the Cage
Raman Raghav 2.0
Real Detective
Rear Window
Reasonable Doubt
Red Army
RED 2
Red Dawn
Red Lights
Redeemer
Reef 2 : High Tide
Reign Over Me
Remember Me
Requiem for the American Dream
Resident Evil : Retribution
Return to Nim's Island
Return to Sender
Riddick
Ride Along
Ride to Glory
Rise of the Legend
River
Road Games
Robot Overlords
Rodeo Girl
Roman Empire : Reign of Blood
Ronaldo
Running Scared
Russel Madness
Russel Peters : Almost Famous
Rust and Bone
Saala Khadoos
Sabotage
Sacrifice
Safe Haven
Safe House
Salvador Martinha
Samurai Flamenco
Santa Claws
Saving Mr. Wu
Scream
Searching for Sugar Man
Selfless
Serenity
Sex in the City : The Movie
Sex Tape
Sexual Chronicles of a French Family
Shadow Hunters : The Mortal Instruments
Shaolin
Shaun the Sheep Movie
Shetland
Short Term 12
Shrek the Halls
Shrek : The Musical
Sid the Science Kid : The Movie
Side Effects
Silver Bells
Sing Street
Skin Wars
Skinwalkers : The Navajo Mysteries
Sky
Skylanders Academy
Slackers
Slap Shot
Sleeping Beauty
Sleeping with Other People
Slow Leaners
Small Time Gangster
Small Town Santa
Smosh : The Movie
Snitch
Snow Days
Snowpiercer
Son of a Gun
Song of the Sea
Sour Grapes
Space Warriors
Spanglish
Spanish Affair 2
Special Forces
Spider-Man
Spongebob Squarepants
Spy Time
Spymate
Stake Land
Stalkers Who Kill
Standoff
Stephen Fry in America
Still Alice
Stolen
Stop at Nothing
Storm Rider
Stranger Things
Strassman Live Volume 5 : Careful What You Wish For
Street
Stuart Little
Suits
Summer of '92
Sunset Song
Super High Me
Superbad
Supremacy
Survivor
Sweet Home
Sword Art Online II
Synchronicity
Take Me Home
Taratabong! : The World of the Meloditties
Team Foxcatcher
Tears of the Sun
Tenacious D in The Pick of Destiny
Terminus
Terra
Texas Chainsaw
Tales by Light
Thanks for Sharing
That 70's Show
The Adventures of Food Boy
The Adventures of Mickey Matson : Copperhead Treasure
The Adventures of Pepper & Paula
The Adventures of Puss in Boots
The Adventures of Sharkboy and Lavagirl
The African Doctor
The Amazing Spider-Man
The American Side
The Armstrong Lie
The Awakening
The Barkley Marathons
The Battered Bastards of Baseball
The Benchwarmers
The Best Man Holiday
The Blue Room
The Bodyguard
The Borrowers
The Boy and the Beast
The Breakfast Club
The Bridge
The Bronze
The Call
The Cat in the Hat Knows a Lot About Christmas
The Christmas Bunny
The Chronicles of Evil
The Code
The Company You Keep
The Crash Bell
The Croods
The Crown
The Da Vinci Code
The Dark Hours
The Debt
The Detectives
The Diary of a Teenage Girl
The Dinosaur Project
The Do-Over
The Driver
The Duke
The Equalizer
The Emperor's Club
The Expendables 2
The Family
The Fast and the Furious
The FBI Files
The Fear of 13
The First Time
The Five Venoms
The Forger
The Get Down
The Girl with the Dragon Tattoo
The Good Wife
The Great Alone
The Great Outdoors
The Great Train Robbery
The Gunman
The House of Small Cubes
The Housemaid
The Human Centipede
The Hunger Games : Catching Fire
The Hunger Games : Mockingjay Part 2
The Hunt
The Hurricane
The Imitation Game
The Immigrant
The Innocents
The Intouchables
The Jerk
The Kids Menu
The Koala Brothers : Outback Christmas
The Land Before Time
The Last Kingdom
The Last Man on the Moon
The Last Stand
The Last Witch Hunter
The Late Boomer
The Legend of Frosty the Snowman
The Legend of Hercules
The Lobster
The Lookalike
The Lorax
The Lord of the Rings : The Two Towers
The Magic Shool Bus
The Man Who Knew Infinity
The Mark of the Angels
The Mindy Project
The Missing
The Money Pit
The Monk
The Mortal Instruments : City of Bones
The Motivation
The November Man
The Numbers Station
The Nut Job
The Nutty Professor
The Office (US)
The One I Wrote for You
The Other Woman
The Others
The Ouija Experiment
The Oxford Murders
The Pack
The Paperboy
The Perfect Man
The Pill
The Pinkertons
The Pirates! : Band of Misfits
The Place Beyond the Pines
The Prince
The Prince of Egypt
The Purge : Anarchy
The Queen
The Ranch
The Rebound
The Resurrection of Jake the Snake
The Ridiculous 6
The Salvation
The Sapphires
The Secret of Moonacre
The Short Game
The Siege of Jadotville
The Silenced
The Single Moms Club
The Smurfs 2
The Social Network
The Spectacular Now
The Straits
The Summit
The Swan Princess Christmas
The Switch
The Taking
The Tiger
The Time Traveler's Wife
The To Do List
The Transporter Refueled
The Very Hungry Caterpillar
The Voices
The Vow
The Water Horse : Legend of the Deep
The Wave
The Wedding Guest
The Witch
The Witness
The Woman in the Fifth
The Words
The Wrecking Crew!
The Young Victoria
Think Like a Man
Think Like a Man Too
This Was Tomorrow
Tiger House
Time Lapse
To Kill a Mockingbird
Too Young to Die
Top Boy
Toro
Total Recall
Total Siyapaa
Tower Block
Tracers
Trailer Park Boys
Trailer Park Boys : Countdown to Liquor Day
Trailer Park Boys : Drunk, High and Unemployed
Traitor
Trust
Tropy Kids
True Memoirs of an International Assassins
Trainspotting
Tricked
True Crime
Turbo
Turn Around Jake
Twilight
Two Night Stand
Tyson
U Turn
Unbreakable Kimmy Schmidt
Uncle John
Under the Sun
Underdogs
Underworld : Awakening
Universal Soldier : Day of Reckoning
Vampire Academy
Van Helsing
VeggieTales in the House
Very Good Girls
Vexed
Victoria
Victorious
Voltron : Legendary Defender
Waffle Street
Walking with Wolves
Walt Before Mickey
We Could Be King
Wedding Crashers
Welcome Mr. President!
Welcome to the Punch
When a Stranger Calls
When the Game Stands Tall
Where To Invade Next
Whiplash
White Bird in a Blizzard
White Chicks
White House Down
Wild Australia with Ray Mears
Wild Card
Wild City
Wild France with Ray Mears
Wild North
Wild Tales
Wildlife SOS
Wildlike
Wings
Winter on Fire : Ukraine's Fight for Freedom
Witches : A Century of Murder
Witnesses
Wolf Warrior
Woodlawn
World Winx
World's Greatest Dad
Would You Rather
You May Not Kiss the Bride
You're Next
Young & Beautiful
Z Storm
Zero Dark Thirty
Zoey to the Max
Zoo
Zoom : Academy for Superheroes